Website & branding case study – Bang Consulting
Your website & branding are two of your most important marketing tools – we take a look at a recent case study where Mass Media Design helped deliver a brand new look for one of our clients.
Client
Bang Consulting – a Hampshire-based marketing agency working with ambitious business owners, who want to outsource their marketing. Nicky Parker, the Managing Director, has a reputation for "getting stuff done".
Bang works very closely with Mass Media Design – we've been partners for several years.
Challenge
2016 was Bang's 10th anniversary and a year that heralded a number of changes for the business. They moved into new offices and expanded their team. It was the ideal time to rebrand to reflect the business values.
Nicky wanted a new logo, and gave our Creative Director, Tim, a wide brief to come up with something different.
For the website, Nicky was clear that she wanted a full screen design. It needed to be modern and fresh with lots of white space. Of course, it also had to be compatible with tablets and mobile devices. The site needed to reflect Bang's client base and the ethos of the business.
What we did
We were very excited about creating new branding for Bang. We have a very strong relationship with the team, and do some fantastic work together.
Because Nicky and Tim work together so often, Tim found this challenge an easy one, and nailed it pretty much from the start.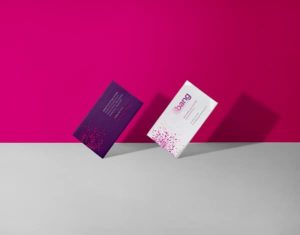 Once the branding had been signed off, Tim created a number of supporting documents that could be easily updated to meet the needs of the business, including business cards and case study templates [?].
We then designed and built a new website on the WordPress platform. Nicky is a perfectionist, which is why she does such a great job for our clients. But that also means she is very demanding about exactly what she wants – a challenge we are delighted to have achieved.
Results
Nicky is absolutely thrilled with Bang's branding and website. She has already received excellent feedback from clients and prospects. It is also a project we are very pleased to showcase in our portfolio.
Bang continues to grow year on year, now supported with a modern fresh brand. And, of course, we continue to enjoy an excellent working relationship.
What the client says
"I had been intending to rebrand for sometime, but when it got to our 10th anniversary, it just felt like the right time. Tim just got it, right from the start, and managed to create branding that combined my feminine side with a predominantly male client base. As a result I feel I have a strong logo that is impactful and makes a statement.
The website was a real challenge. I think mostly because I work on so many website projects with MMD that I wanted to make sure the Bang site stood out and showcased what we are all capable of.
I'm delighted to say that the team have really achieved that. I get so many compliments on the new site, and I am so glad I tackled the challenge.
Huge thanks to all of the team at MMD for a fantastic job, well done." Nicky Parker, Managing Director, Bang Consulting
Is your branding in need of a refresh?
Does your website need to pack more punch? Get in touch for a chat about how Mass Media Design can help your business make a real impact – we'd love to talk (also, we have biscuits)!